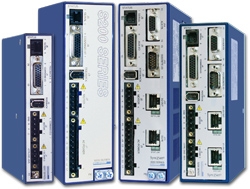 S200 Servo Drive by Kollmorgen
Related Technologies:
Kollmorgen S200 servo drives are the first all-digital industrial drives with a velocity loop bandwidth of 800 Hz. These compact drives offer simplified tuning and unmatched system throughput, with high-resolution feedback and high performance current loop bandwidth for smooth motion and rapid response. The intelligent feedback device with electronic motor nameplate allows plug-and-play commissioning in most applications.
About Kollmorgen

Kollmorgen is a leading provider of motion systems and components for original equipment manufacturers around the globe. With over sixty years of motion control design and development expertise, Kollmorgen delivers breakthrough solutions unmatched in performance, reliability and ease-of-use.

Through world-class knowledge in motion, industry-leading quality, and deep expertise in linking and integrating standard and custom products, Kollmorgen provides OEMs with the competitive advantage they need to succeed.