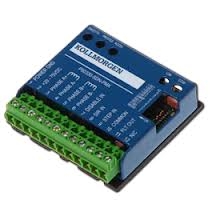 P5000 Stepper Drive by Kollmorgen
Related Technologies:
Introducing the New Kollmorgen P5000 Stepper Drive. The P5000 is a compact micro-stepping stepper drive optimized for high system performance with Kollmorgen's industry leading POWERMAX II stepper motors. It is an impressive yet simple addition to the Kollmorgen stepper drive family. Pairing a stepper system doesn't get any easier! The P5000 and Kollmorgen stepper motors are meant to be together. With easy access smoothing and profile potentiometers for optimized performance.
About Kollmorgen

Kollmorgen is a leading provider of motion systems and components for original equipment manufacturers around the globe. With over sixty years of motion control design and development expertise, Kollmorgen delivers breakthrough solutions unmatched in performance, reliability and ease-of-use.

Through world-class knowledge in motion, industry-leading quality, and deep expertise in linking and integrating standard and custom products, Kollmorgen provides OEMs with the competitive advantage they need to succeed.