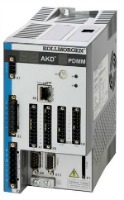 AKD PDMM Programmable Drive by Kollmorgen
Related Technologies:
Multi-Axis Master

The AKD PDMM® combines one AKD servo axis and a master controller that supports up to seven or more additional AKD axes in a single, compact package. It provides integrated control for multiple high-performance axes, complete I/O and HMI interfaces, and includes the full automation capabilities of Kollmorgen Automation Suite™—giving you a single, scalable development environment for both AKD PDMM® and PAC-based machines.
About Kollmorgen

Kollmorgen is a leading provider of motion systems and components for original equipment manufacturers around the globe. With over sixty years of motion control design and development expertise, Kollmorgen delivers breakthrough solutions unmatched in performance, reliability and ease-of-use.

Through world-class knowledge in motion, industry-leading quality, and deep expertise in linking and integrating standard and custom products, Kollmorgen provides OEMs with the competitive advantage they need to succeed.