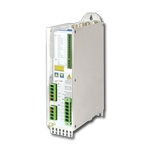 S300 Servo Drive by Kollmorgen
Related Technologies:
S300 Series digital brushless servo drives are compact, easy-to-use and extremely versatile. The small footprint saves space in the switchgear cabinet, and with its wide-ranging connectivity options the S300 may be the only drive family you need. These drives work with our best-in-class rotary servomotors and linear positioners to provide a single, high-performance solution for a wide variety of applications.
About Kollmorgen

Kollmorgen is a leading provider of motion systems and components for original equipment manufacturers around the globe. With over sixty years of motion control design and development expertise, Kollmorgen delivers breakthrough solutions unmatched in performance, reliability and ease-of-use.

Through world-class knowledge in motion, industry-leading quality, and deep expertise in linking and integrating standard and custom products, Kollmorgen provides OEMs with the competitive advantage they need to succeed.