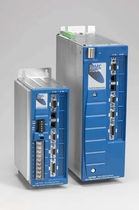 MMC Smart Drive by Kollmorgen
Related Technologies:
MMC Smart Drives provide 0.5kW to 65kW continuous output power in a compact package. Available in both 230 and 460VAC systems, they include an integral power supply and plug-and-play cables for simple installation. PicPro® software provides ladder logic, function block and structured text languages for programming, along with parameter views, a software oscilloscope and autotune to simplify configuration, tuning and maintenance.
About Kollmorgen

Kollmorgen is a leading provider of motion systems and components for original equipment manufacturers around the globe. With over sixty years of motion control design and development expertise, Kollmorgen delivers breakthrough solutions unmatched in performance, reliability and ease-of-use.

Through world-class knowledge in motion, industry-leading quality, and deep expertise in linking and integrating standard and custom products, Kollmorgen provides OEMs with the competitive advantage they need to succeed.