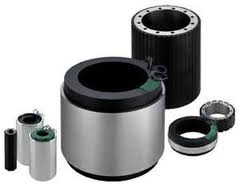 KBM Series Frameless Servo Motor by Kollmorgen
Related Technologies:
The KBM™ Series is designed to be directly embedded in your machine, using the machine's own bearings to support the rotor. With a huge selection of standard motors—plus our ability to quickly and cost-effectively incorporate co-engineered modifications—you can choose an exact-fit motor that provides the highest performance in the most compact space.

FEATURES:
Fully encapsulated stator windings
155°C internal winding temperature continuous capability
PTC thermistor (avalanche-type) overload protection
Rare-earth neodymium iron boron magnets
Fail-safe bands over rotor magnets
RoHS compliant
UL and CE agency facilitation


About Kollmorgen

Kollmorgen is a leading provider of motion systems and components for original equipment manufacturers around the globe. With over sixty years of motion control design and development expertise, Kollmorgen delivers breakthrough solutions unmatched in performance, reliability and ease-of-use.

Through world-class knowledge in motion, industry-leading quality, and deep expertise in linking and integrating standard and custom products, Kollmorgen provides OEMs with the competitive advantage they need to succeed.