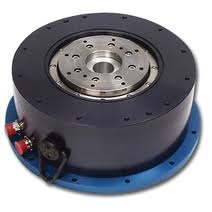 Housed Direct Drive Rotary Motors by Kollmorgen
Related Technologies:
Kollmorgen Housed Direct Drive Rotary (DDR) motors offer high performance and zero maintenance in a precision servo solution. These motors combine large diameter, short length and a high number of magnetic poles to provide outstanding torque density, while eliminating the need for gearboxes, timing belts and other transmission components. Our co-engineering capabilities ensure a right-fit solution for your application.

Features
D Series: 240 VAC line power
DH Series: 400/480 VAC line power
5.3 to 339 N-m (3.9 to 250 lb-ft) continuous torque
Speeds up to 800 rpm meet most high torque / low speed application requirements
Power ratings up to 3,240 watts meet the high power demands of most applications
High-resolution sine encoder feedback
Optional rugged multi-speed resolver feedback provides reliable operation in harsh environments
IP65 and 67 shaft sealing resists dust and water jets
Built-in thermistor provides over-temperature protection
CE Compliant, UL Recognition for global acceptance

About Kollmorgen

Kollmorgen is a leading provider of motion systems and components for original equipment manufacturers around the globe. With over sixty years of motion control design and development expertise, Kollmorgen delivers breakthrough solutions unmatched in performance, reliability and ease-of-use.

Through world-class knowledge in motion, industry-leading quality, and deep expertise in linking and integrating standard and custom products, Kollmorgen provides OEMs with the competitive advantage they need to succeed.