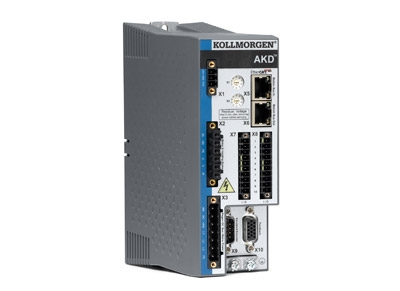 AKD Advanced Kollmorgen Drives by Kollmorgen
Related Technologies:
The Kollmorgen AKD™ Series includes a complete range of Ethernet-based servo drives that are fast, feature-rich, flexible and easy to integrate into any application. These next-generation drives offer plug-and-play commissioning for instant, seamless access to everything in your machine. Paired with our best-in-class servo components, AKD drives offer industry-leading performance, communication options and power levels—all in a smaller footprint.
About Kollmorgen

Kollmorgen is a leading provider of motion systems and components for original equipment manufacturers around the globe. With over sixty years of motion control design and development expertise, Kollmorgen delivers breakthrough solutions unmatched in performance, reliability and ease-of-use.

Through world-class knowledge in motion, industry-leading quality, and deep expertise in linking and integrating standard and custom products, Kollmorgen provides OEMs with the competitive advantage they need to succeed.