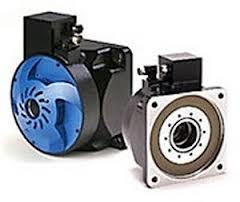 Cartridge Direct Drive Servo Motors by Kollmorgen
Related Technologies:
Our exclusive Cartridge DDR® servomotors combine the performance advantages of a frameless motor with the ease of installation of a full-frame motor. They feature an integrated, factory-aligned high resolution feedback device and a unique bearingless design that couples directly to the load, using the machine's own bearings to support the rotor. Most models can be installed in under five minutes.

Features
5 frame sizes, multiple lengths
230 / 400 / 480 VAC windings available (high and low)
4.5 to 510 N-m (3.3 lb-ft to 376 lb-ft) continuous torque
Speeds up to 2,500 rpm meet most medium speed and high torque application requirements
Power ratings from 775 to 11,700 watts meet high power demands for most applications
Integral sine encoder feedback provides resolution of over 134 million counts per revolution
Built-in thermistor provides over-temperature protection


About Kollmorgen

Kollmorgen is a leading provider of motion systems and components for original equipment manufacturers around the globe. With over sixty years of motion control design and development expertise, Kollmorgen delivers breakthrough solutions unmatched in performance, reliability and ease-of-use.

Through world-class knowledge in motion, industry-leading quality, and deep expertise in linking and integrating standard and custom products, Kollmorgen provides OEMs with the competitive advantage they need to succeed.