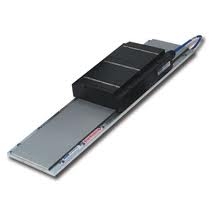 Direct Drive Linear Motor by Kollmorgen
Related Technologies:
A Direct Drive Linear (DDL) motor is basically a rotary motor that is laid out flat and directly coupled to the driven load. By eliminating mechanical transmission components, this design delivers exceptional performance, extremely high stiffness, very high dynamic speeds and accelerations, high positional accuracy, higher throughput, compact mechanical assembly, quiet operation, zero maintenance and smooth, error-free motion.

Product family:
IC Series Ironcore
ICD Series Ironcore
IL Series Ironless
About Kollmorgen

Kollmorgen is a leading provider of motion systems and components for original equipment manufacturers around the globe. With over sixty years of motion control design and development expertise, Kollmorgen delivers breakthrough solutions unmatched in performance, reliability and ease-of-use.

Through world-class knowledge in motion, industry-leading quality, and deep expertise in linking and integrating standard and custom products, Kollmorgen provides OEMs with the competitive advantage they need to succeed.