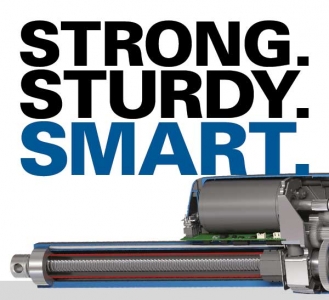 Electrak HD Linear Actuator by Thomson
Related Technologies:
The Electrak HD is a new electric linear actuator platform with onboard electronics which can eliminate the need for standalone controls. Higher power opens a new, wider range of hydraulic applications to electric conversion. And, it meets the most extreme OEM component environmental acceptance tests, including IP69K.
• Built-in J1939 CAN bus option enhances controllability, can eliminate individual controls
and simplifies OEM machine design.
• Electronic trip point calibration ensures consistent overload protection.
• Constant monitoring of critical parameters such as end-of-stroke, voltage, current and
temperature is standard on all HD actuators.
• Built-in dynamic braking reduces coast at the end of stroke, improving repeatability.
• Optional low-level switching with automatic sleep mode reduces footprint, lowers costs
and boosts circuit isolation.
• Optional end-of-stroke indication output for customer use, such as interlocks.
About Thomson

Thomson invented anti-friction linear technology over 60 years ago and has continued to lead the industry ever since. Thomson is the premier producer of Linear Ball Bushing, bearings and profile rail bearings, 60 Case, shafting, ball & lead screws, linear actuators, gearheads, clutches, brakes, and complete linear systems. The Thomson brand is recognized and trusted as the global leader in mechanical motion technology.

We offer the broadest standard product offering in the industry. Modified versions of standard products are routine and complete white-paper design solutions are available across our entire portfolio. Decades of global application experience and unbiased technology expertise enable Thomson to bring machine builders the optimal balance of performance, life and cost.