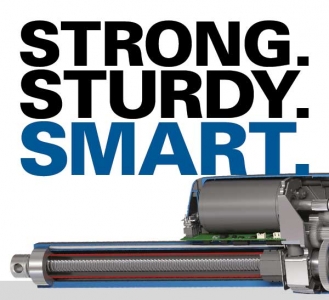 Electrak HD Linear Actuator by Thomson
The Electrak HD is a new electric linear actuator platform with onboard electronics which can eliminate the need for standalone controls. Higher power opens a new, wider range of hydraulic applications to electric conversion. And, it meets the most extreme OEM component environmental acceptance tests, including IP69K.
• Built-in J1939 CAN bus option enhances controllability, can eliminate individual controls
and simplifies OEM machine design.
• Electronic trip point calibration ensures consistent overload protection.
• Constant monitoring of critical parameters such as end-of-stroke, voltage, current and
temperature is standard on all HD actuators.
• Built-in dynamic braking reduces coast at the end of stroke, improving repeatability.
• Optional low-level switching with automatic sleep mode reduces footprint, lowers costs
and boosts circuit isolation.
• Optional end-of-stroke indication output for customer use, such as interlocks.
For More Information, Please Contact Us At:
Axis Inc.
210 Meister Avenue
Somerville, NJ 08876
Phone: (908) 429-0090