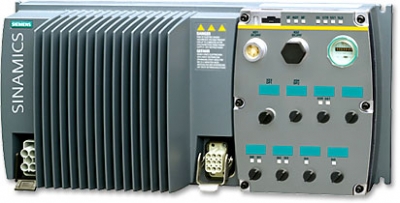 SINAMICS G120D Distributed Inverter For Cabinetless Designs by Siemens
Related Technologies:
The SINAMICS G120D inverter with degree of protection IP65 is the "distributed" brother of the already known SINAMICS G120 series. It has inherited its advantages such as modularity and innovative safety technology (Safety Integrated) and complements the range as a result of the well-conceived design with a high degree of protection. Thanks to the wide range of power ratings up to 7.5kW almost all inverter-related applications can be consequentially designed without electrical cabinets. Digital inputs and outputs at the unit allow sensors and actuators to be directly connected-up at the drive. The input signals can either be directly processed in the inverter and autonomous (independent) local responses can be initiated – or the input signals can be transferred to a central control via PROFIBUS/PROFINET – where they are processed in the context of the complete plant or system.

SINAMICS G120D – a Brief Summary of its Strengths

With many innovative functions
Safety Integrated for safety-relevant machines and systems, capable of regenerative feedback into the line supply for energy saving and the same drilling template for all power ratings

Faster engineering, fast commissioning
Commissioning and service times are also optimized thanks to the standard use of connectors for power, communications and sensor systems – optional Micro Memory Card for parameter saving

Efficient and consistent solutions
via Totally Integrated Automation (TIA), consistency from SINAMICS through to the automation level
About Siemens

As one of Siemens AG operating companies, Siemens Industry, Inc. is dedicated to providing complete electrical, engineering and automation solutions, along with the right products, software, services to our clients worldwide. Our customers include some of the world?s largest and most respected companies in the industrial manufacturing and construction industries. Our technologies range from circuit protection and energy management systems to process control, industrial software and totally integrated automation solutions. The company also has expertise in systems integration, technical services and turnkey industrial systems.

Backed by Siemens Energy & Automation research & development expenditures in excess of $32 million per year, the professionals at SE&A are uniquely positioned to help your organization accomplish its goals faster, smarter and cheaper than you ever imagined possible.

Our leadership team understands your business, and can identify the right combination of products, services and total life-cycle solutions for your plant, facility or operation.

Below is only a sample of products available from Siemens. For information about a specific product or help with an application, call Axis or visit the manufacturer website through the link on this page.