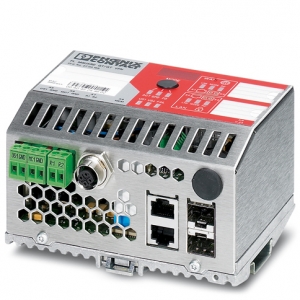 FL MGuard by Phoenix Contact
Related Technologies:
The FL mGuard line is an ideal solution for network security, NAT routing and remote connectivity applications. This powerful, versatile line of security devices includes stateful firewall protection, routing, and VPN connectivity in two industrialized form factors. The product line supports several IEEE protocols and features including DHCP, Relay Agent, VLAN, DNS, NTP, Syslog and QoS, making it interoperable with existing IT infrastructure.

RS form factors are DIN rail-mounted, industrially rated devices with redundant 24 V DC power, alarm contact, wide temperature range and increased immunity to EMI.

PCI form factors fit into standard PCI slots and are ideal for industrial PCs and robots. A driver is included so Windows can the mGuard as a regular network interface card; or the mGuard can be administered independent of the OS.
About Phoenix Contact

Welcome to the world of Phoenix Contact...a world of electrical connection between conductors and printed circuits boards, a world of automation technology and signal level matching and a world of surge voltage protection. Over 7000 Phoenix employees work in partnership with clients to create innovative products for markets across the world.