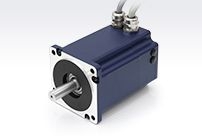 PD4C Plug and Drive by Nanotec
On account of their field-oriented closed loop control, integrated, brushless Plug & Drive DC Servo Motors are ideal for applications that require dynamic, precise positioning or smooth running characteristics. Both stepper and BLDC motors are controlled via the encoder as a function of load and differ only in terms of the working points resulting from the differing number of poles.

Advantages:
•Reliable torque, speed and position control without overshooting
•Integrated electronics
•Cabling requirements are limited to the communication connection and power supply

This product line contains high-pole, brushless DC servo motors based on stepper motors, which when used as direct drives, are more effective and deliver higher performance than traditional servo motors with gears in many applications. Low-pole PD4-CB BLDC servo motors, on the other hand, combine the advantages of field-oriented closed loop control, programmability and simple cabling and high speed capability for high speed applications.

Plug & Drive servo motors can be used in RS485 and CANopen environments. The models are optionally available with an M12 plug connection.



For More Information, Please Contact Us At:
Axis Inc.
210 Meister Avenue
Somerville, NJ 08876
Phone: (908) 429-0090