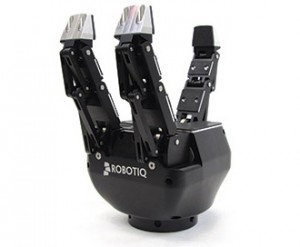 3 Finger Adaptive Robot Gripper by Robotiq
3-Finger Adaptive Robot Gripper

Designed for applications dealing with a wide variety of parts, the 3-Finger Adaptive Robot Gripper represents a solution to improve process flexibility and consistency. This robotic hand gives "hand-like" capabilities to robot arms in advanced robotic applications and industrial automation such as robotic welding, machine loading/unloading, bin picking and research.

Main Gripper Features

Flexibility
Handles a wide variety of part geometries and sizes.

Precise Control Interface
Straightforward control over fingers' position, speed and force.

Rugged and Reliable
Designed for industrial environments.

Compatibility
Compatible with all major robot manufacturers.
Communicate with robot controller over: Ethernet/IP, TCP/IP, DeviceNet, CANopen, EtherCAT, Modbus RTU.


For More Information, Please Contact Us At:
Axis Inc.
210 Meister Avenue
Somerville, NJ 08876
Phone: (908) 429-0090