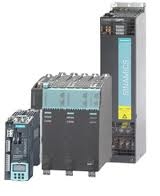 SINAMICS S120 Modular Drive System:

Modular, Flexible, High-Performance Drive System for Vector, Servo, VHz, Single- or Multi-Axis Applications

Optimized to handle virtually any industrial drive need, SINAMICS S120 covers vector, servo, and V/Hz applications with a single product. Its modular design, innovative system architecture, broad range of communication options, cooling concepts, safety integrated functions, and plug-and-play technology make SINAMICS S120 the most advanced motion drive on the market. Designed for user-friendly global use and fast commissioning

Available from 0.25HP to 5,000HP the S120 system offers innovative drive technology and energy efficient operation.

Voltage and Power Range
230V, 380 - 480V, 500 - 690V, 0.16 – 6,000 HP (0.12 - 4,500 kW)


For More Information, Please Contact Us At:
Axis Inc.
210 Meister Avenue
Somerville, NJ 08876
Phone: (908) 429-0090