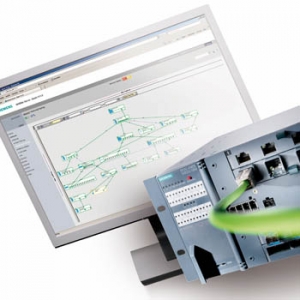 SINEMA Server Software by Siemens
SINEMA Server Software Removes Complexity of Network Troubleshooting

SINEMA Server software from Siemens simplifies network troubleshooting by enabling quick and easy identification of communication problems in Industrial Ethernet networks and connected terminal devices. By shortening response times to industrial network problems, manufacturers are capable of reducing or even avoiding downtime.

The information collected by SINEMA Server can be viewed at any time on standard Web browsers like Internet Explorer or Firefox. The information can also be displayed in an HMI / SCADA system using the OPC interface (COM/DCOM and OPC UA are both supported).

The SINEMA Server network monitoring software can diagnose Industrial Ethernet networks and display the resulting data in tabular or graphical views. During this diagnosis, the program will continuously log and archive the network activities of SIEMENS and third-party devices using standard protocols like SNMP and PROFINET (DCP and LLDP).
For More Information, Please Contact Us At:
Axis Inc.
210 Meister Avenue
Somerville, NJ 08876
Phone: (908) 429-0090