Siemens - Start-up With A Small Footprint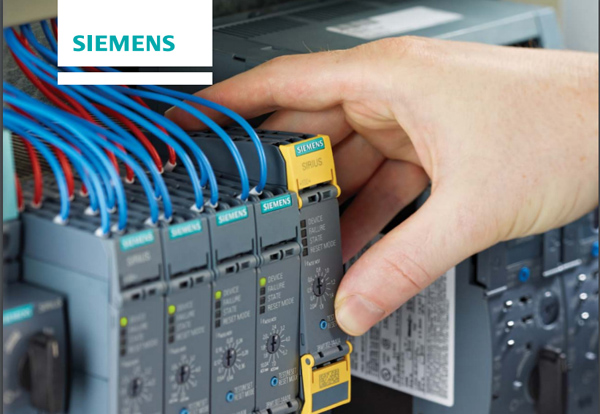 Getting started – even when things are tight SIRIUS 3RM1 Motor Starters

The new SIRIUS 3RM1 Motor Starters are designed for installation in control cabinets and require minimal space: They combine the functionality of contactors and overload relays in a width of just 22.5mm. In addition, thanks to their use of hybrid switching technology, they have all the benefits of relay and semiconductor technology in a single device, which increases their cost-effectiveness.
The motor starters make your work easier, offering easy adjustment of motor current, minimal wiring costs, and fast troubleshooting. With these motor starters, you can build more compact control cabinets and increase the efficiency of your systems while saving time and money in the installation.
Compact

Simple

Economical

Narrow 22.5 mm width
Multifunctionality
Direct and revering starters
Overload Protection
Safe Shutdown

Less wiring
In control circuit thank to device connectors
In main circuit with the infeed system
Fast diagnostics

Durable and energy efficient hybrid switching technology
Low device variance through wire adjustment range
CLICK HERE FOR PDF DOWNLOAD...

SIRIUS 3SK1 Safety Relays Starters

Quickly and easily achieving a safe and productive system
With the SIRIUS 3SK1 safety relays every simple safety application can be optimally implemented, both technically and economically, whether it is EMERGENCY STOP, two-hand operation consoles, light arrays, laser scanners or protection of persons at presses and punching machines. The new safety relays comply with the latest safety standards and can be simply and economically used to achieve a safe and productive system quickly, with many advantages:
| | |
| --- | --- |
| Advantages: | Customer benefits: |
| Compact device range based on bundled functions | Cost saving due to reduced stocks |
| Multifunctional devices, suitable for electronic and mechanical sensors | More flexibility in the control cabinet |
| Narrow housing and award-winning innovative enclosure concept | Space saving in the control cabinet |
| Screw-type and spring-type (push-in) connections available at the same price, simplified connection system | Fast wiring saving time and cost |
| Flexibly expandable through modular product concept | Simple adaptation of new requirements saves costs |
| Reduced wiring through device connectors | Avoidance of incorrect wiring saving time and cost |
| Latest safety standards are met | International use according to IEC 62061 and ISO 13849 |
| Standard device concept | Easy to understand, simple application |
| Parameterization without software | Operator-friendly, simple handling |
CLICK HERE FOR PDF DOWNLOAD...